<!– google_ad_section_start –>


Dwyane Tyrone Wade, Jr. was born January 17, 1982 in Chicago, Illinois. His nicknames include "Flash" and "D-Wade". Wade grew up in southside Chicago and played High School basketball for H.L. Richards High School. Wade chose to attend Marquette University over Illinois State and DePaul University. After a 3 year college career, which included a triple double in the 2003 NCAA tournament, Wade decided to take his talents to the NBA.

Dwyane Wade was drafted fifth overall in the 2003 NBA Draft, by the Miami Heat. After making the All-Rookie team in his first season, and the All-Star team the following two seasons, he led his team to an NBA Championship at the conclusion of his third pro campaign. Wade was named 2006 NBA Finals MVP as he led the Heat to a 4-2 series win over the Dallas Mavericks. Many compared Wade's performance in the Finals to Finals performances of Michael Jordan. Wade also helped Team USA earn a Bronze Medal in the 2004 Summer Olympics, and will compete as part of the 2008 team in Beijing.

Wade was named 2006 Sportsman of the Year by Sports Illustrated. Wade has easily become one of the more well-known and popular players in the league. He had the top selling jersey in the NBA for nearly two years, starting in 2005, until the mid point of the 2006-07 Season. Wade was listed as one People Magazine's "50 Most Beautiful People" and currently serves as a spokesperson for the likes of Converse, Gatorade, Sean John and T-Mobile.

NBA championship with the Miami Heat: 2006
NBA Finals MVP: 2006
3-time NBA All-Star: 2005, 2006, 2007
2-time All-NBA:
NBA All-Rookie Team: 2004
NBA All-Star Skills Challenge Champion: 2006, 2007
Bronze medal winner with team USA basketball at the 2004 Olympics in Athens, Greece.
Bronze medal winner with team USA basketball at the 2006 FIBA World Championships.<!– google_ad_section_end –>
<!– google_ad_section_end –>
Sports Illustrated's 2006 "Sportsman of the Year"
Read more about Wade, 2006 SI Sportsman of Year
Sponsored Ads
D-Wade: Links & Sites
The Official Website of Dwyane Wade
NBA.com's Dwyane Wade Profile

ESPN.com Dwyane Wade Player Card
Businessweek article: Building a Megabrand: D-Wade
Get Custom NBA Contact Tables!
Pimp out your Myspace with an NBA Myspace Contact Table!
Includes Lebron James, Carmelo Anthony, Dwyane Wade, MJ, and Kobe. Selection will be expanding!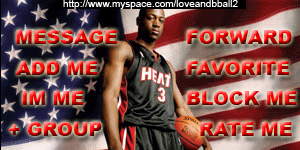 RETURN TO LOVE & BASKETBALL SITE